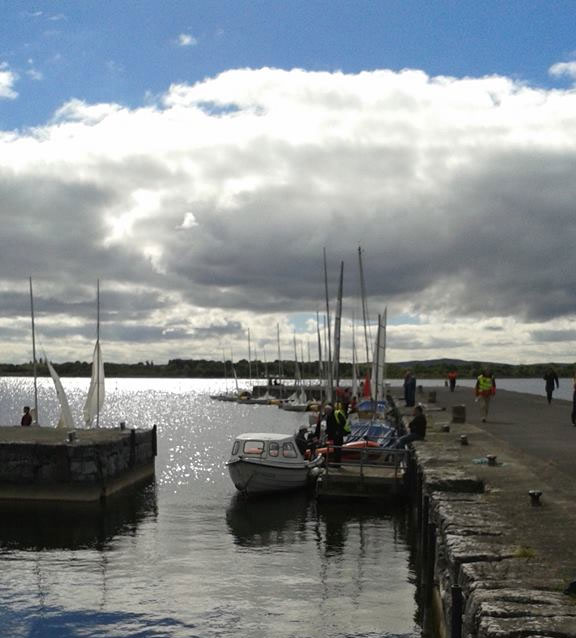 Galway City Sailing Club are co-sponsors of the Cong – Galway sailing race on Saturday June 10 along with Galway Bay Sailing Club & Cumainn Seoltóireacht an Spidéil in conjunction with race hosts Corrib Rowing & Yachting Club.
Galway City Sailing Club have a great record of participation in the race and this year, as ever, we are encouraging as many boats from the club to participate as possible.
Preparation For Race On Thursday June 8
Our usual procedure is to prepare the boats on the Thursday before the race and to drive them up on Friday afternoon. Leaving the boats at Lisloughrey Pier near Cong, Co. Mayo, overnight ready for the race on Saturday morning. Returning with the trailers to the Corrib Rowing & Yachting Club at the university leaving them there for use after the race.
Most of the organising gets done on the Thursday evening, who is sailing with who etc. so if you are interested please come and meet at the dinghy park on Thursday evening June 8.
Galway City Sailing Club Plan
– Thursday June 8: Prepare Boats & organise crew
– Friday June 9: Bring boats to Lisloughrey, Cong & leave boat trailers at Corrib Rowing & Yachting Club, Galway.
– Saturday June 10: Take part in race (see timetable below) & return boats to dinghy park after race.
Find Out More
Race rules  & Entry Form here: http://crycgalway.com/2017-cong-galway/
Tell the world & spread the word here: https://www.facebook.com/events/184771005370482/
Race Timetable
08.00 – Bus leaves club promptly
09.15 – Briefing for sailors at Lisloughrey
09.45 – Slow PY dinghy leave Lisloughrey
10.00 – Slow PY dinghy start & main fleet leave Lisloughrey
11.00 – Main fleet boats start
11.00 – Crusiers assemble & depart Lisloughrey
12.15 – Arrival at Killbeg Pier
12.30 – Lunch at Killbeg Pier
14.00 – Start of second leg of race.
16.00 – Finish at Corrib Village Pontoon
16.30 – Arrival at Club House
17.00 – Snack at Club House
18.00 – Prize giving at Club House
19.00 – Bar at Club House
https://galwaycitysailingclub.com/wp-content/uploads/2015/09/cong-galway.jpg
638
576
Galway City Sailing Club
https://galwaycitysailingclub.com/wp-content/uploads/2022/04/gcsc-logo-sailing-for-all-gradient.png
Galway City Sailing Club
2017-06-02 14:12:45
2018-03-05 15:36:46
Cong Galway Sailing Race 2017